Build A Beautiful Water Garden Fountain On Your Property
Commercial & Residential Fountain & Pond Services
Outdoor Water Fountain Construction, Repair, & Maintenance
There are many different types of outdoor water fountains in which Koi Pros can install, maintain, and repair. Some outdoor fountains can be purchased pre-built from local department stores, while more custom water fountains need to be constructed and designed in custom fashion.
From pond-less (disappearing water fountains) to rock column fountains, – each have their own method of function, pros/cons, and price points. While maintenance on fountains is typically a lot less than that of traditional water features like koi and turtle pond construction, there is still a level of understanding required about each waterscape which will help you anticipate the cost, and overall plan of attack when it comes to constructing, maintaining, and repair these water features. We always address each unique to their type, surroundings, and overall construction as many are not installed or constructed the same as the other (although they might look it)
Helping where it counts
Contact Us Today!
Helping where it counts
Contact Us Today!
Pondless WATER Fountain Construction & Repair
Most residential ponds we service range from 1,000 – 5,000 gallons of water. Typically these water features are natural (non chemically treated) and hold fish or turtles. Some ponds we service are non-wildlife bearing, and more decorative but are also under our water feature service umbrella.
Over the last 5 years we've been perfecting our "small-pond service" – typically any residential water feature with a basin holding under 10,000 gallons of water. These water features typically do not need more than 2 visits per month, and depending on how it was constructed, won't need a thorough cleaning more than 1-2x per year. Maintenance is heavily dependent on how the pond was built. If for example, your pond is full of fish and turtles, and running on a "cookie-cutter" submersible pump, without a UV-light, and very little circulation, then you might need a thorough cleaning every 2 months.
We do our best to walk your system and review the current standing of many factors which equate to a clear pond and happy pond owner. Contact us today for a free pond review.
Commercial Fountain Maintenance
Installing a commercial fountain for your apartment complex, HOA, cemetery, and other public areas is a great way to increase local property value and beauty. We find that property management companies throughout Southern California with water features on the property, are able to increase the monthly cost of rent by up to 10-15% when having a stream, or fountain.
These are great options as the water depth can be below 36″ to avoid any potential drownings, while also increasing the value perceived when walking the property. With almost year-round sun in our area – commercial fountains are relatively easy to maintain, repair, and construct compared to locations with heavy seasons. We service both natural and chemically treated water features for both commercial and residential properties, feel free to give us a call today to get a free service or installation quote.
n your property can be a focal point to say none the less. While DIY ponds are very fun to build and maintain, our most common clients are a "DIY pond builder" who needs help one something yet might need a rebuild because vital parts of the system are compromised.
Bubbling Rock Fountains Construction
Are great for families with small children, and those who want something to look at and listen to – but not the costly expense of maintenance and repairs compared to traditional water features. Thanks to the water re-circulation process, the water levels should be below the filtration media (the rock) and constantly flowing producing beauty and tranquility.
Most bubbling rock fountains can be store bought (in a kit-form) and installed within a week or less if done correctly. Similar to pondless water features, these can range from $1,500 – $2,500 for the kit and up to $10,000 for full installation. If you are a fellow DIY'er and interested in taking this project on yourself, you can usually get away with a rock fountain installation for less than $5,000 (including the kit, extra rock/ media, and entry-level decorations like lights etc) Although we do suggest you contact a local professional to make sure you know what you are getting into, and if you run into trouble we'll know where to jump in on the landscape project if/when needed.
Cascading & Tiered Fountains Installation
We've built some beautifully modern spillways and cascading water features. Both pond-less and full-size pond construction, capable of holding fish, turtles, and other wildlife. Adding a spillway in fountain form is a great way to keep your system healthy and ecosystem in tact.
Of course there are non-natural versions of these fountains. If you are planning on building a natural feature, with turtles and other wildlife, we suggest adding in extra filtration, pumps, and UV-lights where applicable. As the waste of the fish and other wildlife can cause your intakes to get clogged, ultimately hindering the flow of water back into the basin. These types of water features are great for aeration and keeping your system in tact.
Helping where it counts
Committed to Excellence
Pond, fountain, & water-garden repair services
Consider It Done – Transform Your Landscape Today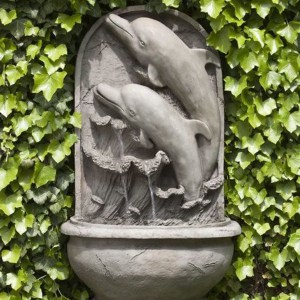 Bi-Weekly Maintenance
Custom koi pond maintenance services and pond cleaning service plans for your water features. Maintenance includes filtration backwashing, skimmer basket emptying, UV light replacements, and more. We keep your water-garden looking beautiful!
Pump & Filtration Repair
Don't let your pond or water feature sit with Algae and green murky water – we'll clean both your pond and filtration for you. From submersible pumps and filtration to external pumps and pressure filters – we know pond filtration.
Fountain design & Construction
Custom design and installation of whatever type of water feature you're interested in. From pondless waterfalls, to custom above ground koi ponds, to commercial water features – contact us first. We'll even install landscape and aquatic plants on your property.
Repair & Leak Detection
Pond and Equipment repairs – need a new UV Light? We can help. Losing water? You might need a new liner, or reseal completely. Ponds older than 10 can lose water very easily. We suggest reaching out before it's too late. We have all your aquatic needs covered.
We'll Help You Manage, Repair, & Install Your Water Featurescape
GET A FREE QUOTE TODAY
Call today (714) 613-0123
Learn More About Our Other Services.
Interested in installing, rehabing, or servicing your backyard pond? We offer a ton of additional water pond design options for you to take a look at. Feel free to reach out if you have any questions!