Consider adding a wall fountain to your yard to provide it with a beautiful antique feeling. You can get started by contacting professional wall fountain design companies such as ours to consult with us about your plans. The following are some wall fountain designs for you to consider in your future plans.
Lion Wall Fountain
Nothing can provide a more classic look than a fountain that has a lion's face on it. This is a great option if you prefer a traditional and basic touch for your yard. We service a few commercial properties throughout Orange County and Los Angeles who have Lion Wall Fountains and the customers walking the property love the appearance and sound. 
Colorful Tiered Pots Wall Fountain
The design is comprised of various multi-colored pots of different sizes, which provides your yard with a unique appearance. It is powered by electricity, with every pot containing resin/fiberglass materials. This wall fountain is weatherproof as well, so it remains beautiful in both the sun and rain.
Cherub Dolphin Fountain
Install a cherub dolphin fountain in your yard to add an angelic, maritime touch. Featured on the fountain is a cherub on top of a dolphin. It is made out of a resin material so that it lasts for many years into the future.
Metal Wall Fountain Having Built-In Planters
When you have a metal wall fountain it means you won't have to worry about it chipping or shattering. It also is equipped with built-in planters that you can your favorite flowers in.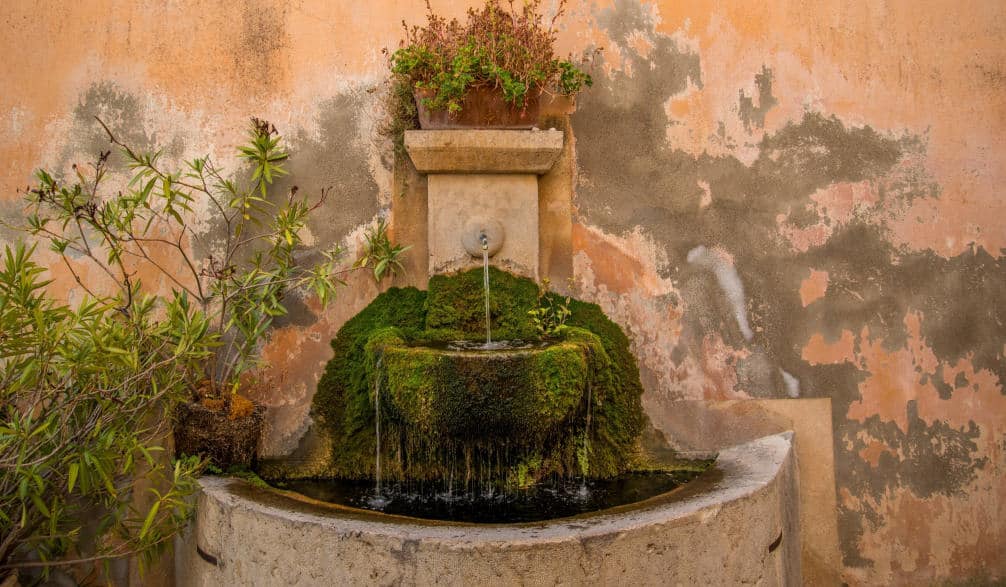 Lighted Metal Fountain
Think about getting a beautiful and bright fountain like this one. The copper-mirrored face of the fountain complements the rippling water. Due to its calm-sounding water and beautiful appearance, it is an ideal accessory for your entryway.
Seahorse Fountain
Install a seahorse fountain to provide your yard with a seaside, charming glamour. The seahorses face one another, and the basin underneath is in the shape of a scallop. It is very strong due to its marble bonded composite material.
Electrical Seaside Wall Fountain
Another beautiful nautical wall fountain for your consideration is a design that features two shells: one of the shells is on top of the spigot, while the other one is split into three where water flows into the basin. This fountain is very easy to assemble. (Contact us for images) 
French Lily Fountain
This fountain provides you home with a beautiful and exotic style. Usually, it is made out of resin. It features a cascade, tiered design that will definitely be a big topic of conversation in your home. 
Dragonfly Wall Fountain
The design of this fountain will blend in nicely with your garden. The cattail and dragonfly engravings offer a pastoral beauty that is unmatched. Water pours from one spigot from this striking fountain. 
Falling Diamonds Wall Fountain
This fountain features an awe-inspiring design. At night, the waterfall is light up by the LED lights, which makes it appear as if diamonds are shining through. The wall fountain's base is made out of cast stone, so it will last for quite some time. 
X3 Wall Fountain
This wall fountain is a very interesting accessory to add to your garden. It features three water spigots along with stunning geometric shapes. It allows for an auto-refill system to be installed for maintaining a specific level of water. 
Clearly, there is a practically endless number of different wall fountain choices that are available to you. Choose one or more of them for your home. Don't worry, if your wall fountain happens to malfunction. Just give us a call for any fountain repair needs that you have. You can also contact us for additional information on the other services that we provide.
REACH US
529 W Blueridge Ave #F110 Orange, CA 92865
(714) 613-0123
[email protected]
Original Content Source: https://koipros.com