Cement fountains are always a great addition to any property. They are low maintenance, while also typically very efficient due to their small pump size, and sometimes a great alternative water feature to have the tranquility of water on the property without breaking the bank.

Although, you'll likely find that most fountains begin to develop fissures and cracks after a few years due to the elements like the sun and local atmospheric pressure adjustments. Additionally, If you have a decorative water fountain with a design like a gargoyle, custom tile, or unique rock installed on the fountain, some parts of it may break off, requiring custom repair from a company that understands fountain repairs. 
The good news is, broken cement fountain repairs are usually easily accomplished by the typical DIY do-it-yourself homeowner in a short time and with little expense. After the repairs are made, you can re-seal your entire fountain with a clear sealant if you'd like.
If you're good at painting, make your repaired fountain appear new with a fresh coat of non-toxic / water-friendly paint (which is also safe for Koi Fish or Turtles around your fountain).
Of course, you can always contact us for the help of a professional fountain contractor. We'll make your custom fountain the centerpiece of your garden, Dr Office, or other commercial property. Fountains are a great addition to any walkway, entryway, courtyard, food court, backyard, and more.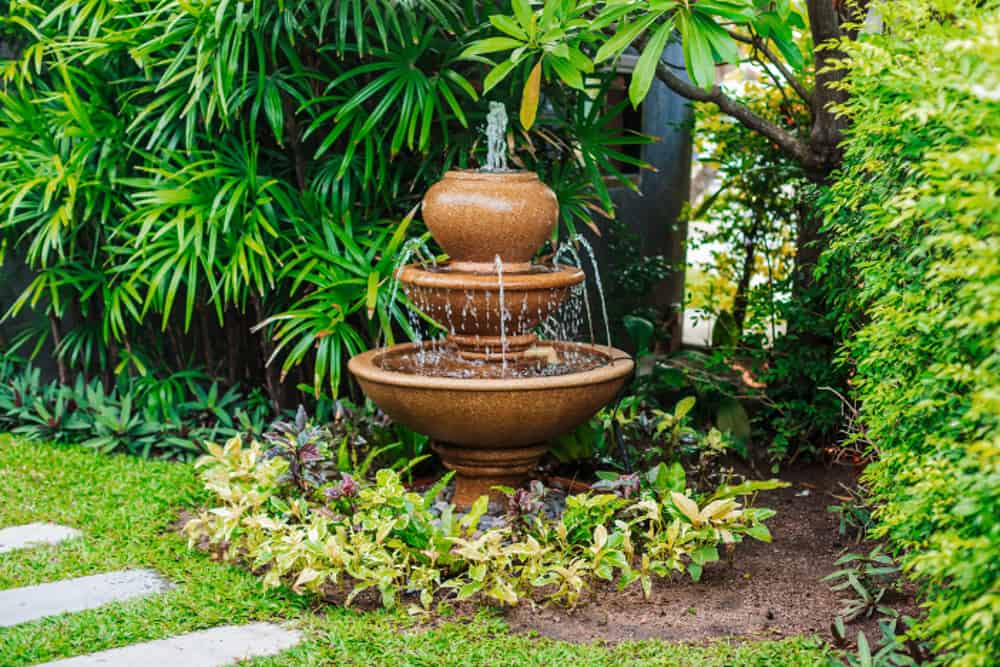 Materials You'll Need To Begin Repairs:
Absorbent cloth
Wire Brushes
Concrete Epoxy or Premixed Cement
Putty Knife
Plastic Trowel
Epoxy Mixing Plate
Duct Tape
Concrete Sealer
Vinegar
Brush
10 Steps To Repairing Your Cement Fountain And Water Pump
Initial Preparation
Turn off the fountain pump. Remove the water and dry the fountain. Examine the fountain and its basin for any breaks, cracks, or holes. Surface preparation is important in repairing small cracks and larger areas of concern on your fountain.
Cleaning the Fountain and Water Pump
At this stage, you can also start cleaning the fountain water pump, drainage system, and water feed hose to remove debris and concrete dust. Do it with a mixture of vinegar and water.
Add two cups of vinegar to standing water and start cleaning from the outside. Then dip the pump in the same mixture and let it run for around 30 minutes.
Absorb water and dry the concrete fountain using a good absorbent like a towel. Let it dry completely by allowing the water to evaporate through the cracks in the concrete for at least 24 hours.
Before you start the repair process, you'll want to clean the area. You can use a wire brush to remove concrete dust, small particles of dirt, and any broken pieces of concrete that still remain on the cement fountain.
Use a finer wire brush to dislodge concrete from the joints at locations where designs are created and fixed on the fountain.
Preparing the Epoxy Mix
At this stage, you can use concrete epoxy or a patching agent like Liquid Nails to restore the broken cement fountain surfaces. You'll have two tubes of the epoxy to mix before you apply.
Use a paper plate to create the mixture of hardener and a bonding agent. Use a plastic spoon to mix these differently colored ingredients on the paper plate until you achieve a consistent color.
Cement Adhesive Option
If you have a fountain with several tiers, you can use premixed cement from a hardware store to recreate your fountain.
Once you've cleaned the fountain, repair design elements like the gargoyle, wings, and complete other cosmetic work that you need to do in order to achieve symmetry in the different elements.
Filling in the Cracks
You can now use the plastic spoon to fill the smooth epoxy paste mix into the cracks or broken concrete. Fill the paste into the holes until it appears above the surface level.
Replacing Decorative Pieces
When you're joining two surfaces, hold the dislodged surface in one hand and apply the adhesive on one side and then the other side that is intact on the fountain before you join the two surfaces together. Create an even surface by spreading the plaster with a plastic trowel until the surfaces are leveled.
Care must be taken to fill in enough epoxy paste to replace designs that were broken or dislodged during the repair process. The epoxy paste that you fill will be able to hold design pieces that you fix back onto the fountain once you've held them together for a period of at least two minutes.
Using Duct Tape
You can use duct tape to hold designs that are not level to the horizontal. When you're satisfied that all the pieces are in place, wrap duct tape around the entire cement fountain to hold all the pieces together.
Drying Phase
Complete the repair by allowing the epoxy to dry off on the cement fountain for at least 24 hours.
Slowly remove the duct tape.
Applying Paint or Sealant
Use a brush to apply a concrete sealant like Rust-Oleum paint over the entire cement fountain. The purpose of using a concrete sealer or paint is to protect the cement fountain from the ultraviolet rays of the sun and also to prevent water from penetrating the repaired surface and causing fresh cracks over a period of time.
Completing Repairs
Again, let the concrete sealer dry off completely for at least 24 hours before you start the flow of water to your repaired cement fountain.
While a property owner can repair a cement fountain, it is always a good idea to seek professional help, especially when you're struggling with some part of the repair process.
You'll find that it is a better and more viable option in the long run, as the professional will be able to notice cracks that need repair before they cause more damage.
Final Thoughts
Regular maintenance by a professional team will ensure that your fountains remain in good shape, and you're able to get repairs done at short notice.
We service both commercial and residential properties in California. From fountain filtration, pumps, maintenance, and construction, to complete landscape renovations contact Koi Pros for a free quote today (714) 613-0123