Tricky waterfalls, recycled watering cans, and captivating outdoor fountains. These 17 outdoor water features will provide an idyllic ambience right in your backyard, commercial courtyard, food court, and more. From small ponds and recycled plastics to luxurious stones, the possibilities with water features are endless and can be built to suit every outdoor space.
We often receive questions like – What is the typical cost for custom landscape design, including a fountain? What do you suggest we go with – Pondless Fountain? Maybe a Tiered Fountain? Wet-wall fountain? What if we have kids or animals? Help!?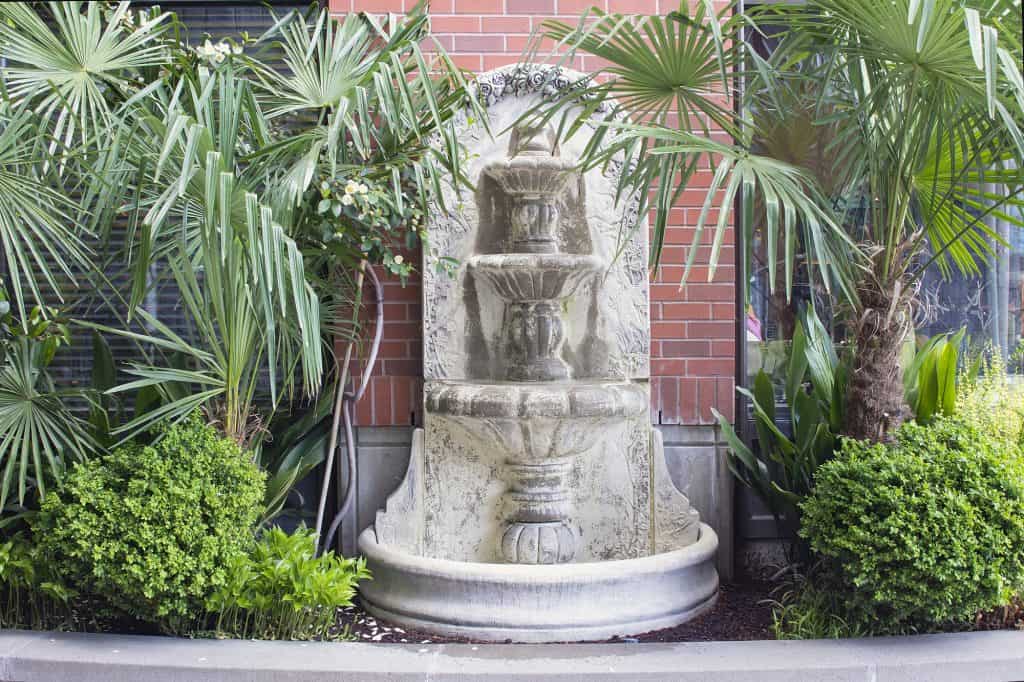 That's why we decided to write this article and wanted to cover everything related to outdoor brick fountain ideas. For the skilled do-it-yourselfer, many water fountain projects make great DIY projects, which will be outlined below. In addition to this, we will also give you some great water features and landscaping ideas in case you want to hire a professional fountain design and construction service for your next big project.
Are you trying to cover up that late-night highway noise, or maybe that loud dog down the street who seems to bark at everything? Possibly considering a backyard fountain offering soothing and relaxing noises for your Yoga sessions?
Say no more, and read on.
Our wet-wall and custom fountain ideas outlined below will be helpful in establishing a solid plan of attack for creating a stunning focal point in your residential and commercial entryways, and front yards, or for enjoying when kicking back on your backyard patio, under a beautiful cedar-wood pergola we installed.
A Moorish-Style Wall Fountain Completed with Tiles
A stunning backdrop will enhance a water wall in any style. This area is covered with hand-painted Mexican tile and glazed tiles of the Moorish style. The water flows gently to a semicircular pool topped by cobalt and yellow mosaic tiles. Bring an additional flair to your wall fountain using a beautiful accent piece, such as a sunflower positioned on your tiles. This can be the focal point of your water feature in the yard. Come up with outdoor brick fountain ideas for a small pool with one lower basin or even two basins.
Caterina Tiered Fountain
A Caterina tiered fountain is an impressive two-tiered outdoor water fountain with a traditional tier. This 52-meter-high pedestal waterfall will make the perfect focal point of your formal landscape in an outdoor space. Stream water flowing from the acorn-shaped finial splashes into an encircled basin and flows slowly over the edge toward the bottom basin. The outdoor fountain basin is just 3 feet tall and features Tuscan motifs that are ideal in both modern and traditional waterfall gardens. You can choose 14 finished outdoor fountain surfaces hand painted with natural and weather-tolerant colors for any garden.
Tiered Water Fountain
This outdoor fountain has two sides that are ideal for the front yard or for the garden. Come up with some fountain ideas with clean lines. Start with the garden fountain in your backyard pond. DIY scale: If you use a set of containers and hoses to add character to a tiered water fountain in your backyard, you'll have the perfect solution for a garden fountain with running water. It will make this into a simple and fun water wall DIY project. Depending on the design of the outdoor fountain in your backyard, you may need professional help with additional fountain ideas. Pricing: A low-quality outdoor fountain can cost around $1,100, and a high-quality outdoor fountain is priced at around $7,500 for excellent design and installation. Outdoor space landscape advice: Brighten your cascade-dwelling waterfalls with bright flowers on the edge of the water feature. The vibrant flowers become the focal point of a garden pool with running water.
Japanese-Influenced Fountain like A Concrete Zen Garden
Fountains can be added to the landscape in different ways. The Japanese-inspired outdoor fountain is a perfect complement to the stone-framed lake. The sheets of water on the edge of this water feature capture the sun and provide calming sound. The water spouts out from the surface of the stone and then flows out of the water to the pond or basin at the bottom.
Small Fountains Can Have a Big Impact On A Property
Fountains can be used in many different landscape types and sizes. Running water on a water wall sounds calm and provides visual enjoyment to guests. Blue-painted bricks form round patterns around the pillars of the garden fountain that make blue-gray water a focal point. Cool colors complement nicely the flowering trees that surround the water feature. You can always add several such small fountains in front of the patio for your guests.
Navonna Outdoor Water Fountain
Its large splash pool and lower height make it the most elegant centerpiece of the garden and patio. An elegant one-piece basin has an oval base surrounded by a decorative panel in Classical Italian fashion. This outdoor fountain basin is topped with bubbling pipes, and four straight pipes create dramatic flowing, splashing water that runs from each side of the swimming fountain. Unlike ornamentation, this water feature provides the ideal way to create a Mediterranean feel to your landscape. This fountain has 14 hand-painted finishes for modern and rustic designs and is made of cast concrete.
Japanese Outdoor Brick Fountain Ideas
Shishi-odoshi refers to a Japanese device aimed at scaring deer and other animals from the farming zone. A szu is the style in Japan of a water fountain that helps repel the annoying (and dangerous) intruder in their area. The curved tube of the outdoor fountain can be tilted at the balance. It's the heavier end that falls against rocks, while the lighter end points upwards as it absorbs water. As light accumulates, water bamboo sticks swivel downwards and spill water into the basin of the garden fountain. When the water is removed, it returns its heavier side to its equilibrium. When the balance is restored, the heavy side hits pebbles and emits a sound. This sound scares the animals.
Provincial Outdoor Wall Fountain
It can be interesting to design your landscape in a French provincial style. This shabby chic provincial outdoor fountain is a great addition that will transform your garden into your dreamy, classy oasis. This water fountain will be the center of attraction. Bring this tall wall fountain to life with sound as the waters splash against pots and other materials you place around the fountain. Every beautifully cut edge adds an elegant finish — the bottom pool is decorated beautifully with materials that provide character to the fountain.
Meditation Garden Glazed Pot With Bamboo Spigot
A meditation garden glazed fountain is a perfect match for your landscape. A large and glazed oval pot makes this the perfect addition to meditation gardens. The sound of flowing water creates a peaceful atmosphere, and the bamboo spigot enhances its decor. Surrounded by lush greens is the pipe that runs the water, which enhances its aesthetics. You can always add more life to your water feature with additional fountain ideas, like adding a tall fountain in your yard or in front of the patio for your guests to rest.
Asian-Style Pedestal-Like Water Fountain
An Asian-themed pedestal fountain gives an elegant look to your landscape. The pedestal-like fountain is a square-shaped fountain with an air bubble nozzle. The concrete outdoor fountain is durable and provides a wonderful focal piece for a garden or yard in any outdoor space. This water fountain has Asian influences and has been designed for a pedestal fountain theme.
Large Vizcaya Wall Fountain
The huge Vizcaya water fountain is a perfect example of beauty. The dark glazing adds a sophisticated look which is sure to resonate with a garden or a large yard. The unique design of this waterfall fountain combines beautiful 3-tiered fountain water that dries smoothly into the bottom area into a basin. This large back plate reflects the history and art of Rome and the magnificent sculptures that surround it. The older components in this water fountain provide depth and character to the overall appearance and feel of this outdoor fountain, making it the perfect addition to the yard or landscape. Skilled artisans work on these outdoor water fountains to provide quality, beauty and durability to the landscape.
Modern Carved Cast Stone Fountain
A tall fountain is sometimes perfect for an informal garden. Here, this recirculating fountain has carved cast stone and neat lines and natural forms. The river flows from the bottom up the ridge, then again to its bottom into a basin. This simple water element creates an elegant setting which accentuates running water sounds over river rocks. It's the perfect addition to any landscape. Reduce the depth of water in the basins to create a stronger tone or increase the volume.
Crafts Water Features Like Hanging Fountains
Decorative fountains provide the best solution to any problem with spaces. It hangs just like the pictures on the walls. A simple water feature can add a soothing scent to water trickles that a picture cannot provide. This craft water feature perfectly matches the traditional setting. Ivy surrounding the emerald and growing plants make this water fountain a focal point on walls.
Pondless Waterfall
A few times, your own backyard can't get enough space for even a garden pond. Waterfalls in ponds can offer the same artistic appeal, and the soothing sound of water trickles. A lake-less waterfall does not have a pool or basin to hold water. The fountain absorbs water for reuse. If this water fountain DIY is too difficult for you, please consult a landscaping professional. Pondless fountains usually start at around $4,500. The price increase depends on the features, its size, and other additions to this water fountain. You can create this beautiful focal point in a small yard with the right water pump creating a relaxing atmosphere around your beautiful fountain with water bubbles, water pours, and water cascades in mid-air.
Urn Fountain
An urn fountain is an easy and effective way to display a collection of containers. Curved edges of the urn add a soothing texture, and their varying height is attractive to the eyes. DIY metering: When you have selected your favorite vases or urns, either get an expert to install your fountain for you or wear a DIY cap for a moderate-level project. Cost: Price depends on the size of the urns and the quality of the urns you choose for your project. The water fountain is usually cheaper in some cases than $200, while other urn prices could go to as much as $1,000 or more.
Stone Waterfall
A natural stone waterfall can bring nature into your backyard. DIY Scale: It can be either simple or hard, depending on how large your project's waterfalls are. This water feature installation usually costs around $3,000 to $4,000. Materials for a DIY stone waterfall would be around $1,000. Water feature landscape tips: Brighten your garden pool by planting bright perennial and annual trees along the border.
Landscape Lights
Unless you're sleeping in the sun, you can never lose the waterway. Install landscape lighting for ponds, waterfalls or any water feature to make it the focal point. You will enjoy the glow of the sparkling lights that cascade into the swollen water. DIY scale: For lighting to enhance the water fountain, we suggest hiring a professional. Lighting a water feature with solar, pathway or LED lighting is a straightforward DIY activity. Landscape lighting costs vary based on light type, project size or whether you are working with an expert.